Just as Blockbuster couldn't keep up with Netflix's digital prowess, traditional insurance is struggling to match the dynamic world of eCommerce. The outdated practice of yearly projections can leave you exposed, either drowning in excessive premiums or vulnerable to inadequate coverage.
Enter 'Pay-As-You-Sell' – the Netflix of e-commerce insurance.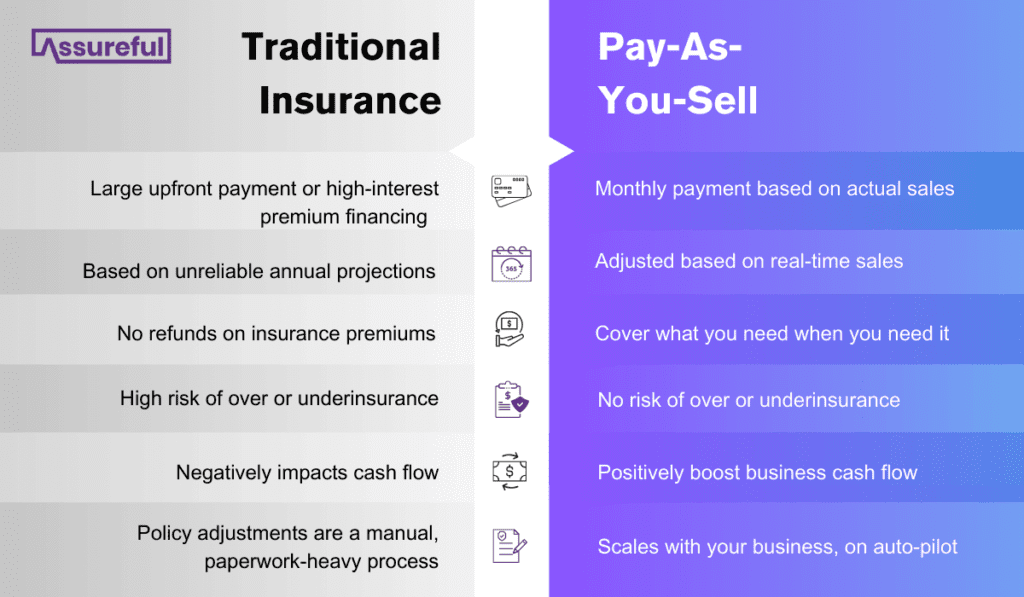 The Inefficiencies of Traditional eCommerce Insurance
Traditional insurance models often require sellers to make yearly projections and engage in guesswork to determine their insurance requirements.
As any eCommerce business owner knows, without a crystal ball on hand, this projection is almost never correct. And you may be wondering, "Well, what's so bad about that?"
Getting this projection wrong can lead to severe vulnerabilities:
Over-insurance: You've paid too much for your liability insurance, impacting what was already a tight profit margin and of course, insurance firms do not offer refunds on your insurance premiums
Under-insurance: The insurance you've taken out covers a specified number of units, turning the joy of surpassing your projections into a situation that could put your eCommerce business at severe risk of financial loss if a claim were made
To add to this risk, traditional insurance models often require sellers to pay their premiums upfront or finance them with high-interest premium financing – only adding to the strain on your business.
Introduction to Pay-As-You-Sell Insurance
Enter Pay-As-You-Sell (PAYS) insurance – a game-changing solution designed to evolve with a seller's actual sales.
Unlike traditional insurance models, PAYS allows eCommerce sellers to pay their insurance premiums on a monthly basis based on actual monthly sales. If you have a great month, your eCommerce insurance cost goes up to ensure every single sale is covered. If you have a bad month due to anything from supplier and shipment issues to seasonal demand, you pay less.
PAYS is designed to adapt to a seller's actual sales. This means that as your business grows, your insurance coverage grows with it – this eliminates any risk of under-insurance and ensures you are always adequately covered.
This approach offers flexibility and peace of mind, as sellers only pay for the coverage they need when they need it.
Assureful Pay-As-You-Sell insurance is designed by eCommerce sellers, for eCommerce sellers, with the exact cover you need for peace of mind – at a lower monthly cost. Get a quote today and start selling with confidence.
No obligation quote.
Policies can be canceled at any time, with 30 days' notice.
Assureful's Innovative Approach
Assureful is leading the way in the PAYS eCommerce insurance space with our unique offering.
Assureful's automated, instant quote system allows you to get a bespoke insurance quote tailored to your specific needs without the need for lengthy forms or complicated calculations.
Here's what sets Assureful apart:
Automated, Instant Quote System: Our proprietary machine learning technology provides sellers with a bespoke insurance quote based on 400+ data points like past sales data, type of product and seasonality, claims history, and many more. This eliminates the guesswork involved in traditional insurance models and ensures sellers get the right coverage at the right price
Seamless Integration with Major eCommerce Platforms: Assureful connects with all major eCommerce platforms, including giants like Amazon, Walmart, Shopify, eBay, and Etsy. This allows for seamless adjustments to your cover in line with your actual sales
Private Label and Dropshippers: Insure your entire product range, including imports from China that traditional insurers often reject
Accurate Pricing: We base our pricing on real-time tracking of 28,000+ product categories 
Adjust Your Product Catalog Without Any Paperwork: As we connect with your selling platforms, your premium will automatically adjust if you add or remove products from your catalog – no need to notify us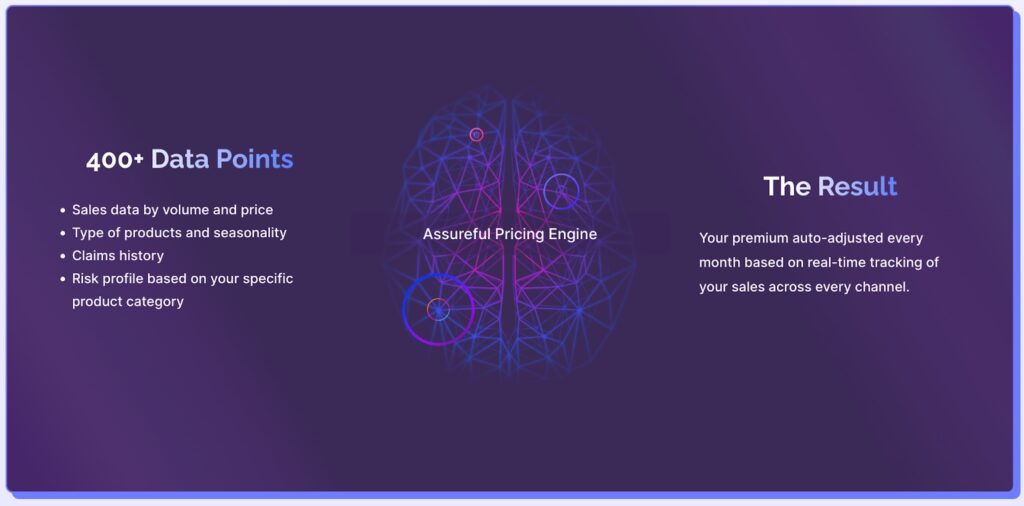 Benefits of Assureful's Pay-As-You-Sell Model
Assureful's PAYS model offers a host of benefits designed to meet the unique needs of eCommerce sellers.
Here's a closer look at what you can expect:
Monthly-Billed Insurance with No Painful Premium Audits: Eliminate the need for painful premium audits and the stream of paperwork that comes with them and ensure you're always paying for the right amount of coverage. Every single month
Affordable Premiums: Starting from just $26 per month, eCommerce sellers of all sizes can save with Assureful
Compliance with All Major eCommerce Platforms: Sell with confidence, with policies designed specifically in line with the requirements of all major platforms
Coverage in All 50 US States and for Imported Products: Ensuring wide-ranging protection for your eCommerce business
We're Not the Broker, We're the Underwriter: Ensuring a more personalized service and faster claims process handled by our trusted claims partners
The Future of eCommerce Insurance Is Here, and It's Called Pay-As-You-Sell
With its flexibility, affordability, and adaptability, PAYS is set to revolutionize the way eCommerce sellers manage their insurance needs.
Stay ahead of the curve with Assureful's PAYS model and experience the peace of mind that comes with knowing you're always adequately covered, no matter what.
Remember, in the world of eCommerce, adaptability isn't just a strategy – it's a survival skill. So, adapt your insurance to your sales, and let your coverage evolve with your business. That's the power of Pay-As-You-Sell.
Sign up today to receive your quote in minutes.
No obligation quote.
Policies can be canceled at any time, with 30 days' notice.